Image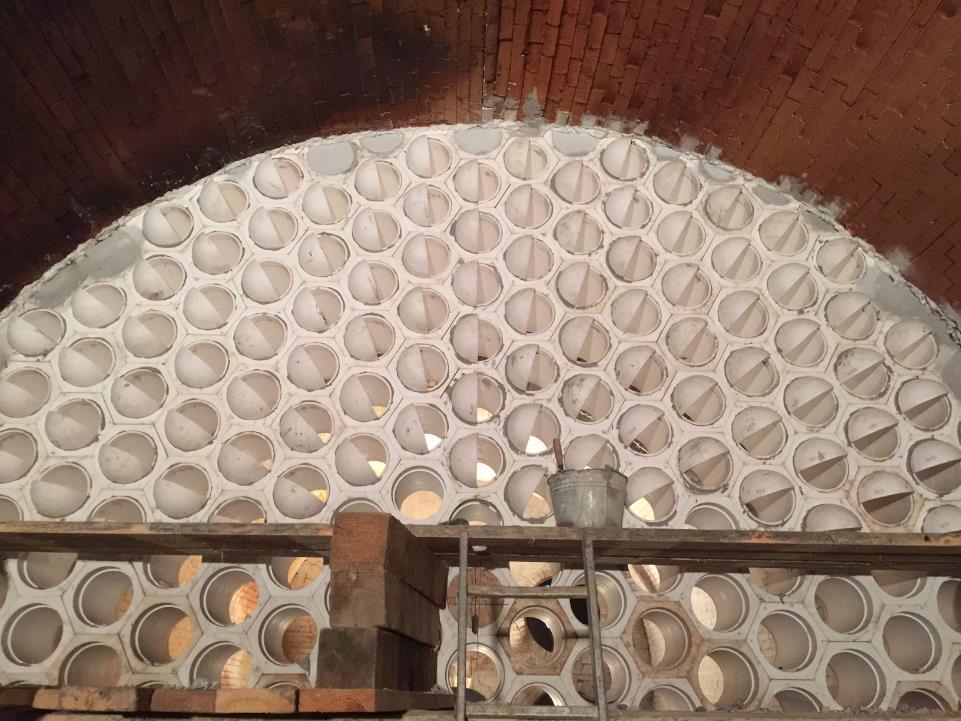 VectorWall Mixing Checkerwall
Blasch VectorWall™ Mixing Checkerwall is a versatile, mechanically stable system consisting of a series of stackable, six-sided blocks incorporating alternating tabs and slots on each side that are designed to ensure the blocks are positively locked together at installation. The VectorWall is offered in a highly creep-resistant mullite bonded composition, designed to resist deformation under load.
Our patented VectorWall increases capacity and lowers the operation and maintenance costs of medium and large diameter high-temperature reaction furnaces such as those used in Claus Sulfur Recovery Units (SRUs). It replaces and significantly improves upon traditional, weak, unsupported refractory brick baffle walls or checkerwalls with what is usually a smaller overall number of walls that perform the same function, more efficiently, in a shorter distance.
For more information or to receive a quote for these products, contact us today.
Contact Us
MECHANICAL STABILITY
VectorWall employs Blasch's patented HexWall™ technology as a stable and reliable foundation for use even in oxygen-enriched environments. It is stronger, more precise, and uses far fewer parts than standard 9" brick and refractory mortar baffles or checkerwalls for a faster, more secure installation. Rapid disassembly and reassembly of the Blasch VectorWall can easily be achieved for major maintenance turnarounds. Spanning the entire inside diameter of the burner or furnace, the Blasch VectorWall becomes structurally integral with the furnace wall.
Other mechanical advantages include, but are not limited to:
Inherently stable large hexagonal ceramic blocks
Design ensures that all blocks are fully supported
Patented tongue & groove interlocking joints can withstand thermal expansion
Structural stability even in an upset condition
Mortar-free installation results in easy, fast construction with no specialized labor
Successful track record in severe service with no failures
PROCESS IMPROVEMENT
The benefits of the VectorWall mixing checkerwall lie, not only in its mechanical stability but also in its infinitely variable mixing configurations. These configurations may be adapted to provide optimal mixing regardless of burner types and locations, and they are simple to erect, reducing the need for expensive, highly skilled labor. In addition, the VectorWall checkerwall can be configured for a variety of new flow regimes including tangential vortex flow.
Other process improvements that your plant can expect to achieve include, but are not limited to:
Lower pressure drop
Improved mixing
Increased process throughput
Very tight Residence Time Distribution (RTD)
Plug Flow (PF) characteristics
Ability to create multiple zones in a single furnace
Back mixing in first zone
Cooler second zone for lower NOx
The vast majority of refractory, by volume, used in the refining and petrochemical sectors is in the form of brick or castable. These allow for the greatest flexibility in installation but greatly limit the ability to develop innovative component and assembly designs that work to the inherent strengths of refractory materials, which can, in turn, provide significant process improvement. One such example is the use of a checkerwall in reaction furnaces to improve various process parameters. In addition, the use of the VectorWall in a tail gas incinerator has shown savings of up to 10% in fuel used, and more, if operating at less than designed capacity. Less fuel means lower carbon emissions.
If you are interested in not only saving time on your next turnaround but improving your process as well, download "Rethinking Refractory Design" to find out more.
Product Information Sheets
In this on-demand webinar, presented with DigitalRefining.com, Senior Global Director Uday Parekh discusses how ceramic solutions like Blasch VectorWallTM and StaBloxTM boost the reliability and performance of your hydrogen production and sulfur recovery plants with benefits including:
Higher plant reliability and much longer run-lengths
60-90% faster installation times
Annual energy savings of several hundred thousand dollars for SRUs, and lower emissions
In this video presentation, learn about refractory design and the process that Blasch takes as we strive to offer more value in our VectorWallTM Mixing Checkerwalls including potential process improvements, timing, and cost in your plant.
In this short video, watch how easy it is to install a Blasch VectorWallTM Mixing Checkerwall and how it will help your plant improve conversion efficiency, better protection of tubesheet from radiant heat, and reduce operational costs.
In this short video, learn how time, temperature, and turbulence play a key role in the process improvements of SRUS and how the Blasch VectorWallTM Mixing Checker Wall can help you achieve those goals.
In this video, learn how improper mixing can cause many issues in your furnace and how you can dramatically improve efficiency while cutting costs with less downtime and fewer repairs with Blasch's VectorWallTM.