Blasch Precision Ceramics, Inc. delivers innovative ceramic solutions that address complex operating conditions through our engineering and technical expertise, products, materials, and partners. We specialize in net shape ceramic and refractory components to a wide variety of industrial markets worldwide. These industries include specialty aerospace and non-ferrous alloy production, chemical/petrochemical processing, power generation, industrial process heating, mining, minerals processing and wear.
Our customers rely on Blasch to supply high quality products and services with exceptional performance, increased economic value, and industrial sustainability based on their unique technical needs.
Our world class processes drive our manufacturing and product fulfillment in diverse value chains for industrial applications. We are committed to finding the best economic solution – whether through our internal manufacturing or our many worldwide partnerships.
Image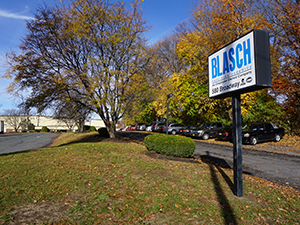 The Right Solution for You
Our manufacturing process is a unique forming method developed to produce net and near net shape ceramic parts exhibiting very attractive physical properties based on a wide range of materials. Many parts produced by Blasch are large, complex shapes with features that could not be produced with other existing ceramic technology. 
Custom solutions in ceramics and refractory shapes are routinely created and designed to be produced internally with the Blasch Process or with vetted manufacturing partners whose processing and forming methods complement our own.
We protect our intellectual property with both patents and non-disclosed proprietary know-how, where appropriate.
Sustainability
Sustainability is not a new concept for Blasch. Since 1979, we have focused on improving our customers' processes with ceramic-based solutions that improve outcomes and remain highly efficient throughout their service life. For example:
Increasing aircraft engine efficiency with advanced ceramics for powder metallurgy (PM) processing technology
Increasing the efficiency of hydrogen production in large scale processing
Improving the performance of reaction furnaces within oil refineries
Reducing pollution in coal fired power plants
Reducing sulfuric acid emissions in petrochemical and other industrial applications
Improving energy utilization in aluminum production
We have also ensured our manufacturing processes are the most efficient and sustainable as possible. In 2014, we were an early adopter of solar with panels covering 30,000 square feet at our headquarters building. This sustainability investment continues to generate up to 20% of our electrical consumption.
Headquartered in Albany, NY, Blasch is an employee-owned (ESOP) company. We operate at every level with our Core Values in mind: Innovation, Relentless Pursuit of Results, Passion, Ownership and Teamwork.
---