Image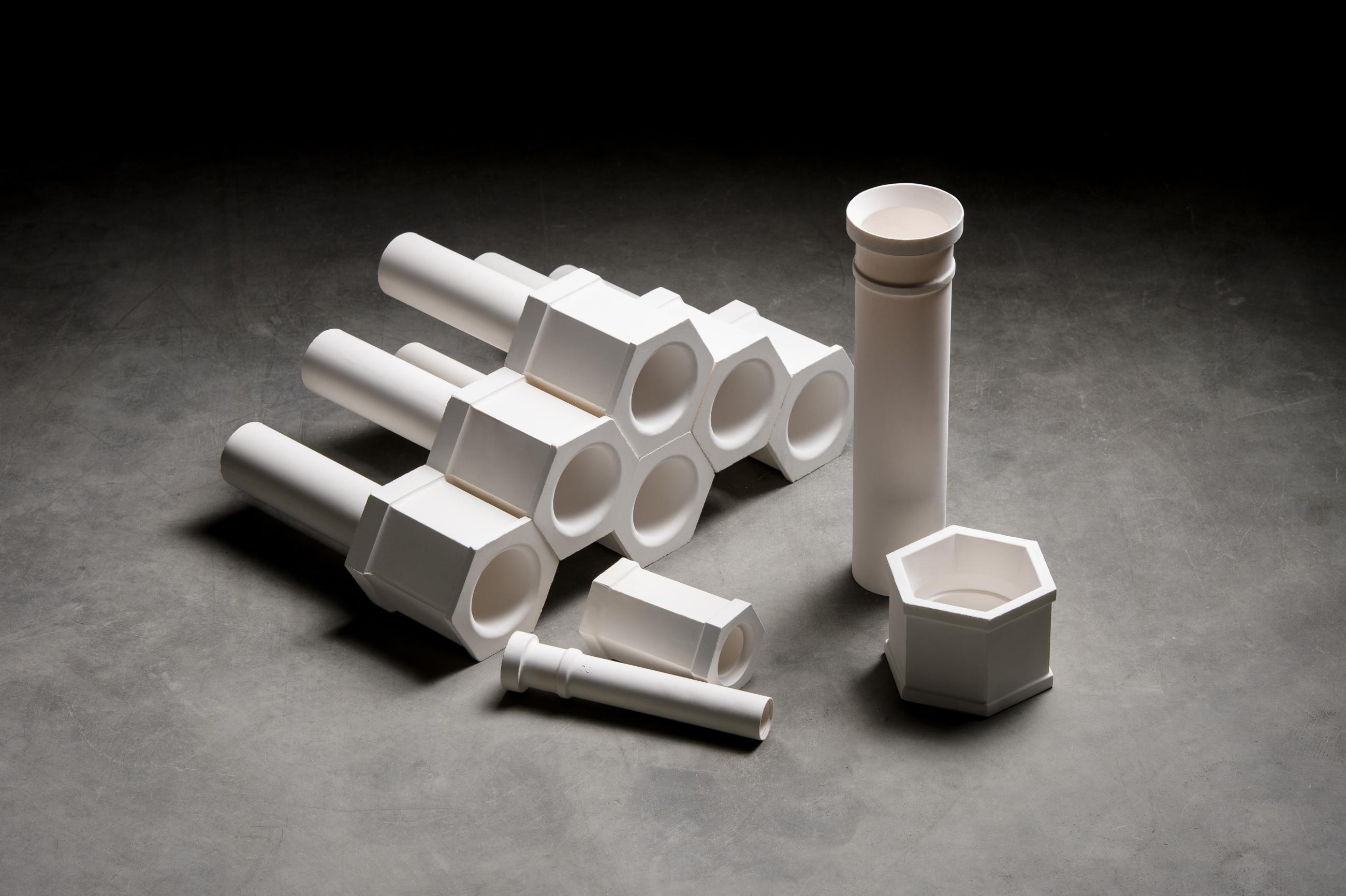 Ceramic Ferrules: One & Two Piece
Blasch ceramic ferrules provide more effective waste heat boiler tube protection and allow for much greater design flexibility than traditional refractory systems. This is accomplished through the separation of the structural and insulating functions of the ferrules.
For more information or to receive a quote for these products, contact us today.
Contact Us
There are several options available, depending on the specific details of your particular equipment. Operational advantages of our precast ferrule systems include:
Thermal Management System (TMS): TMS is a pre-fired tubesheet protection system that allows for the extensive use of fiber insulation in conjunction with the ProLok two-piece ferrules and provides greater insulating value than castable alone, in a greatly compressed area, saving space, and refractory.
Improved performance: Large expanses of castable refractory undergo tremendous thermal and mechanical stresses as they heat up and cool down, which results in cracking in the castable refractory. Tubesheet protection systems consisting of our precast two-piece ferrules perform with built-in expansion joints, limiting damage to a confined area. 
Reduced pressure drop. Blasch's ProLok ferrules are available with a wide range of tapered inlet and outlet profiles. In addition to reducing the refractory mass in the furnace, ProLok ferrules have been shown to reduce pressure drop over conventional round ferrules and castable installations.
Patented Ferrule Design Leads to Reduced Peak Heat Flux
At the 2017 Brimstone Vail Conference, Clinton Schulz of CITGO Refining and Chemicals presented results that his plant has realized utilizing a patented ferrule design which was engineered in cooperation with Blasch in 2005.
Download his full paper to find out how patented modifications to the Blasch Ferrule design have resulted in longer boiler tube life due to reduced peak heat flux.
Image

Before: Turbulence due to eddy effects dramatically increases heat flux
Image

After: Patented modifications to the Blasch Ferrule design result in longer boiler tube life due to reduced peak heat flux
CITGO – US Patent #7,574,981
 
To find out more, download the full paper as presented at Brimstone Vail.
Ease of Installation
Patented Blasch boiler tube ferrules are pre-engineered for each and every boiler tube installation. Customers can expect to receive ferrules that are properly sized, accurately molded, and completely wrapped with all required fiber insulation.
Installation is as simple as taking them out of the box and slipping them into the boiler tubes. Castable refractory is not necessary between the ceramic ferrules and only the most minimal amount is required around the periphery. Operators can save days on turnaround without the need to painstakingly install, and then cure out, large expanses of castable refractory.
Two-Piece Ceramic Ferrules
Our patent-pending ProLok™ twist and lock two-piece ceramic ferrules have several advantages over traditional one-piece systems and offer increased reliability over traditional two-piece ferrules.
Increased Thermal Expansion Tolerance: By separating the ferrule's head and stem, stress is removed from the concentration point where the two connect in a one-piece design, allowing for better thermal expansion tolerance.
Improved Design Means Longer Life: Sinking the stem deep into the head reduces stress on the stem by decreasing its length, also allowing the head to pivot slightly around the stem. This flexibility allows the ferrules to better accommodate warped or out of spec tubesheets while also allowing the ferrules to naturally adjust to each unit during start-up, with each ferrule having the ability to independently shift into the ideal position.
Patented Twist And Lock Design Keep Ferrules In Place: With other two-piece ferrule designs, you run the risk of having the stems fall out of the tubes during service. Our ProLok twist and lock design address this concern by utilizing a locking mechanism. This lock retains the flexibility of the ferrule while ensuring that the ferrule stem does not separate from the head while in service.
Superior Material Properties: With a wide range of high alumina compositions available, Blasch is able to offer exceptional resistance to corrosion, erosion, and thermal shock. Additionally, these two-piece ferrules are fired under controlled conditions in a plant environment, resulting in consistent, predictable properties; rather than ferrules that require the extensive use of castable refractory and field curing. Due to its design, ProLok two-piece ferrules are not subject to the vagaries of weather, installation expertise, and time constraints.
Other precast boiler tube ferrules are designed to be installed with some amount of protective barrier consisting of mortar between the ferrules which creates a problem when ferrules heat up and expand. The mortar is crushed during this expansion and can fall out after repeated cycles, leaving a direct path to the tubesheet. Blasch ceramic ferrules for boilers are engineered to come to closure at operating temperature without the need for this secondary protective barrier.
Request a sample ProLok Ferrule
US Patent #8,646,515
In this presentation, learn about waste heat boilers, their applications, and what Blasch has to offer that can potentially be both a solution and improvement to your current process. With our shape making capability and 30+ years in the industry, we can help you engineer a ferrule solution to your specific needs.
In this short video, learn how fast and easy it is to install Blasch's ProLok Two Piece Ceramic Ferrules into a waste heat boiler, potentially saving you days in a turnaround.
Originally designed to be a simple, stable wall replacement for the stacked cylinders, the Blasch HexWallTM was upgraded to provide mixing enhancement and the same functionality as a series of solid baffle walls. Download this white paper to learn more about the process benefits that your plant can experience, including:
enhanced mixing
improved destruction efficiency of unwanted compounds
increased residence time
protection of the tubesheet from radiant heat or hot spots
Download this case study to learn how the installation of MECS© HexPro Ferrules, manufactured by Blasch Precision Ceramics allowed the IPL Mount Isa sulphuric acid plant to experience:
67 % faster installation time of HexPro ferrules
the absence of refractory mitigates other adverse effects
lower pressure drop, longer service life, and reduced maintenance costs
Product Information Sheets