Image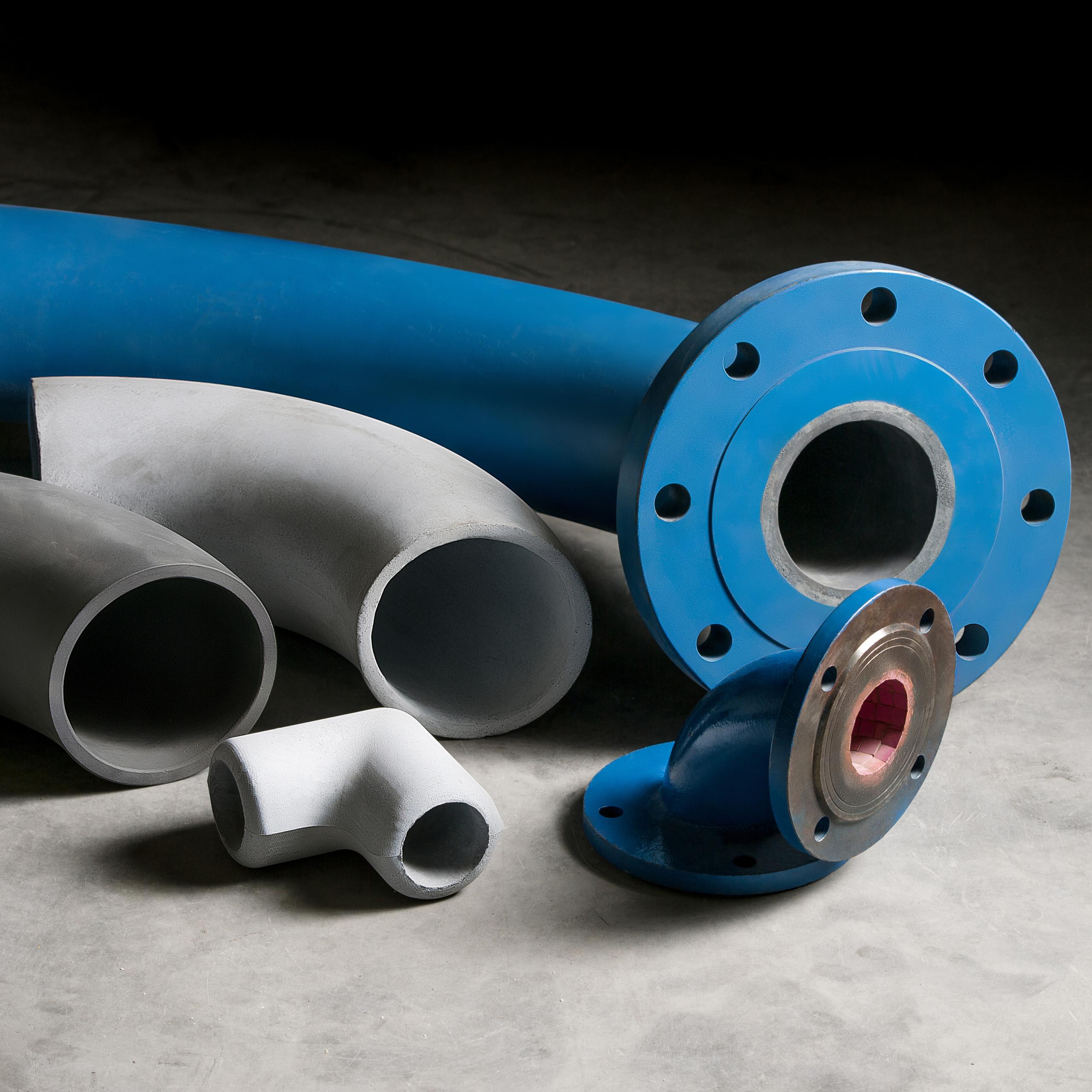 Ceramic Lined Elbows: CeraLine™
Available as a turnkey unit with steel pipe & flanges, Blasch ceramic lined elbows are engineered for unparalleled life and abrasion resistance. Blasch pre-cast tight tolerance shapes are used to line pipe with diameters ranging from one-half inch to several feet. Premature wear and interrupted flow are eliminated with CeraLine's engineered joints and smooth bore. This also serves to reduce pressure drop and flow restriction.
CeraLine elbows are available in short or long variants and varying sizes:
Long Radius (LR) Elbow: Radius is 5D or more (5x the diameter of the pipe)
Long Radius 45°Elbow: Changes pipe direction by 45 degrees
Long Radius 90°Elbow: Changes pipe direction by 90 degrees
Long Radius 180°Elbow: 180 degree return bend allows complete flow reversal
Wye's, Tee's and Laterals also available
Short Radius (SR) Elbow: Radius is 1D to 3D (3x the diameter of the pipe)
Short Radius 45°Elbow: Changes pipe direction by 45 degrees
Short Radius 90°Elbow: Same as LR90 except for the measurement between end of elbow to center line is 1 x NPS
Short radius 180° Elbow: Short Radius 180° return bend allows complete reversal of flow
Wye's, Tee's and Laterals also available
Many abrasion resistant ceramic compositions are available, assisting users in achieving financial performance objectives by reducing downtime and repairs.
For more information or to receive a quote for these products, contact us today.
Contact Us
Ceramic Lined Elbows Engineered to Your Needs
Blasch can supply any sized ceramic lined pipe or fitting with standard flanges, weld on, slip on, Victaulic, threaded or simple pipe ends. Your specific requirements are at the forefront of our product engineering, enabling our elbows to bolt right into place.
Blasch SiC liners provide predictable extended life which allows the user to schedule maintenance and replacement on their own schedule. Blasch ceramic lined elbows replace weld overlay, ceramic coatings, alumina, rubber, polyurethane, and tiled & segmented construction, often extending life by 2-10x.
In addition to elbows, we supply tees, wyes, laterals, reducers, chokes and other complex transitions. Most or all of the joints where wear and abrasion start are eliminated due to our engineered approach to manufacturing. Features like shiplaps and complex mating joints can be cast into the ends to provide a tight seal and reduce the chance of wear associated with joint transitions. Very thin or thick walled liners are available to suit your requirements.
APPLICATIONS
Bottom Ash Systems 
Bulk Material Transport 
Carbon Injection 
Concrete Pumping Elbows 
FGD Reagent/by-products 
Fly Ash Systems 
Fuel Transport 
Pneumatic Conveying 
Slurry & Tailing Lines 
Wet and Dry Applications 
Catalyst Unloading Line 
Coke Fines Piping
Image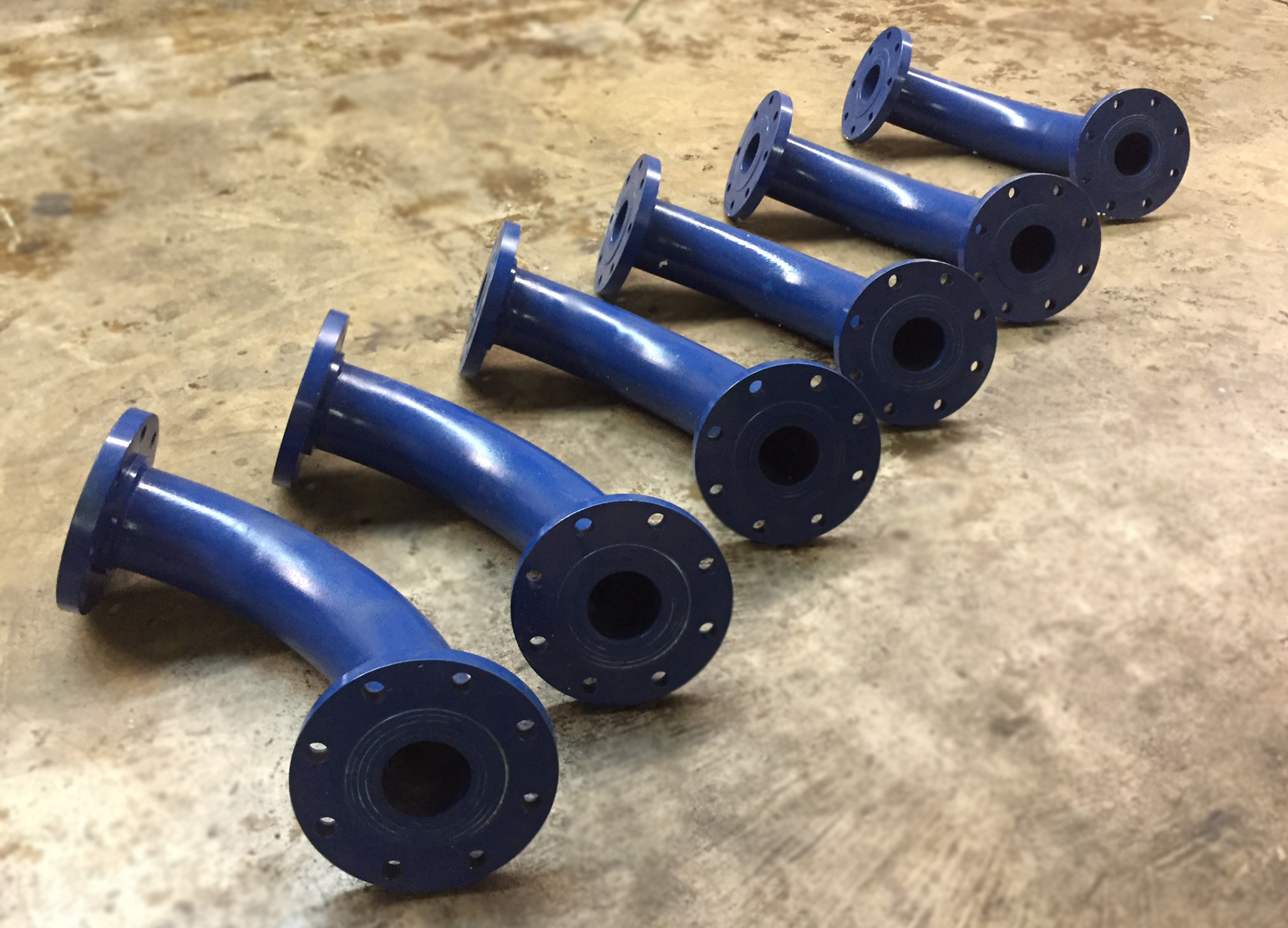 Blasch Insulated CeraLineTM
Image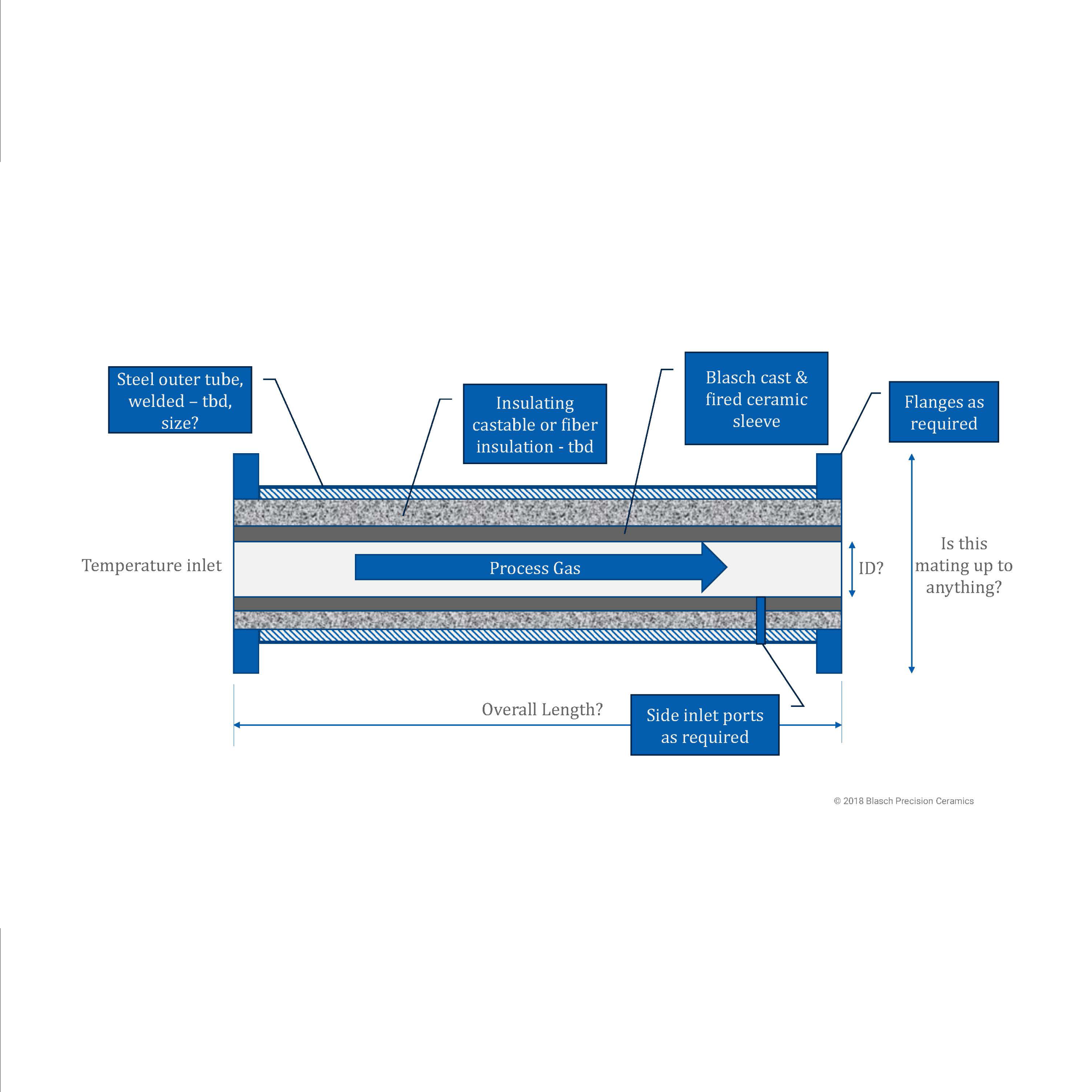 In addition to abrasion resistant linings, Blasch can engineer a ceramic lined insulation package for your complex piping systems.  If you are processing hot gases and/or combusting such as in a methane pyrolysis application, electrolyzer, molten salt transfer line, heat exchanger or hydrogen combustion system, we can engineer a hard faced high temp lining system backed up with an insulation layer.  Corrosion resistant and high temperature materials are available depending on the application.  
Product Information Sheets
All-round Ceramic Protection
Erosion can significantly reduce the operational life of cement production equipment and speed up the replacement of key components. The use of abrasion-resistant precast ceramic parts can be a sound alternative to expensive metallic shapes or cast refractory.
In this short video by Tim Connors, Blasch Senior Market Manager-Energy & Chemicals, learn about our CeraLine family of piping solutions and material options for abrasion, corrosion, or high-temperature applications.