Image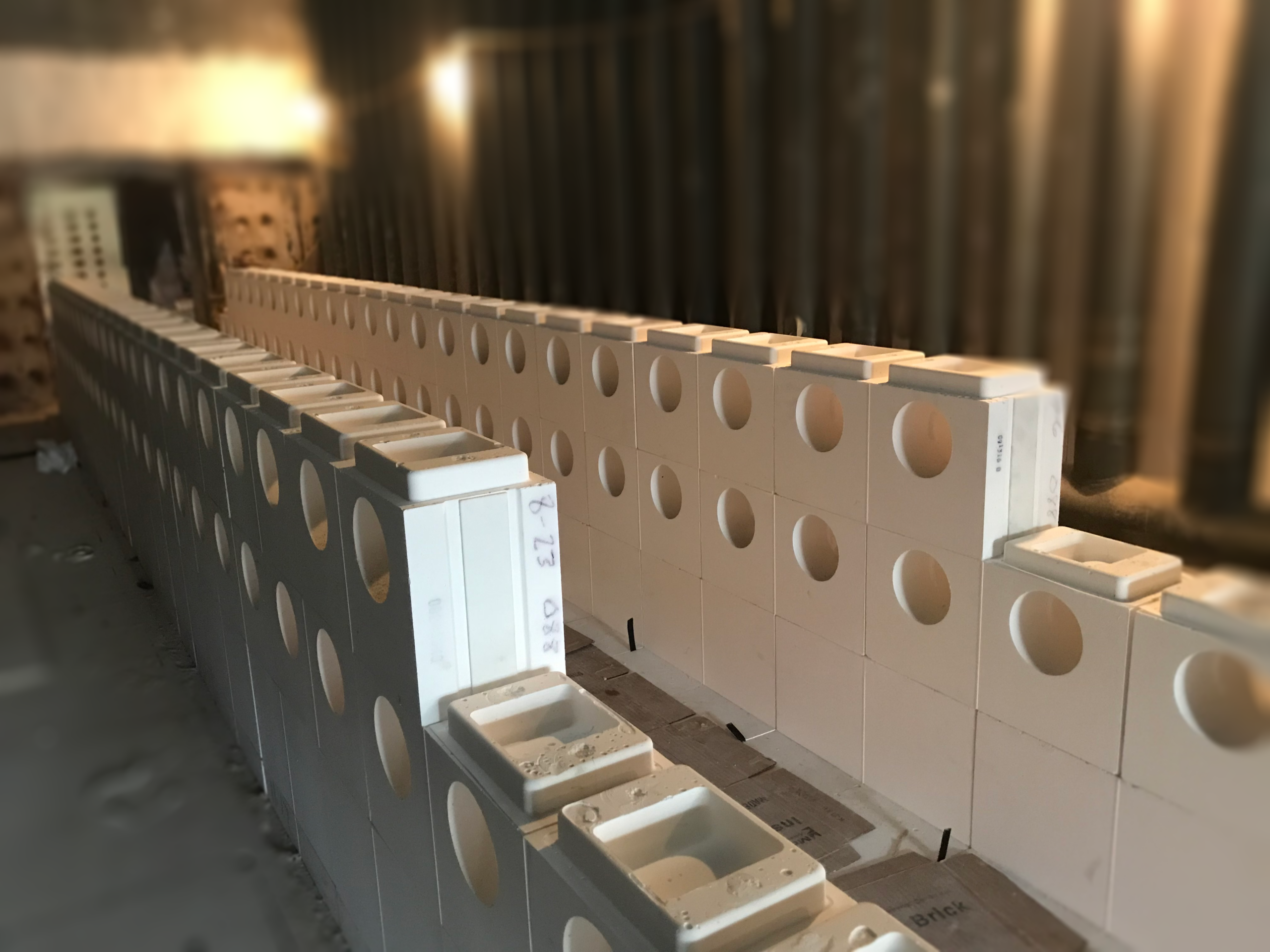 StaBlox™ Flue Gas Reformer Tunnel System
The patented Blasch StaBlox™ reformer flue gas tunnel system is a versatile, mechanically stable system consisting of a series of stackable, interlocking blocks. Unlike traditional flue gas reformer tunnels, which rely on mortar for mechanical integrity, and typically fail as a result of multiple thermal cycles and poorly performing expansion joints, the StaBlox system is designed to fit together in a mortar-free assembly that can easily and accurately accommodate for any thermal growth. Roof assemblies offer lightweight, structurally stable designs that are engineered to be much more resistant to the effects of high-temperature creep than standard designs. All StaBlox components are fully customizable allowing for any situation or unit.
U.S. Patent #10,605,456
For more information or to receive a quote for these products, contact us today.
Contact Us
MECHANICAL STABILITY
The unique geometry and advanced mating features of the blocks in the base, walls, tie-rods, and structural lid of the StaBlox Tunnel System allows for the assembly of complete tunnels in hours instead of the days required to fabricate a tunnel using traditional brick and mortar techniques. The highly engineered design also reduces overall mass by 60% while maintaining structural integrity.
Other mechanical advantages include, but are not limited to:
Prefired components/no mortar required/no cure-out
Expansion joints designed into every block
Improved structural reliability results in less distortion and cracking
Lower mass means less heat storage and more even cooling
Elimination of buttresses means tunnels may be wider
PROCESS IMPROVEMENT
With orifice inserts, BD Energy Systems' patented TOP™ technology may be implemented to provide near-uniform flow along the length of each tunnel, promoting even heating and reducing tube hotspots.
Other process improvements that your plant can expect to achieve include, but are not limited to:
Reduction of methane slip of 2%-3% provides options for plant operations.
Improved efficiency in methane conversion can provide significant savings in feedstock costs
In situations where the plant is bottlenecked, the reduction in methane slip can result in a significant increase in plant capacity.
Improved uniformity results in more uniform tube life, improved reliability of high-temperature components.
Improved uniformity results in less need for individual burner adjustment to address high TMTs.
Reduced pressure drop across the tunnel system
Greater allowable interior tunnel width
Increased tube reliability – Increased tunnel reliability
Fewer emergency shutdowns – process safety improvement
Improved SNCR NOx reduction performance
Download the Blasch Precision Ceramics and BD Energy Systems brochure.
The same base material and distributed expansion technology behind the StaBlox system have been saving Blasch customers money in various high-temperature combustion applications for decades. Tighter temperature control leads to greater conversion efficiency, and that means more product for the same amount of fuel or less fuel for the same amount of product, and less fuel means lower carbon emissions. Reduce natural gas consumption by reducing methane slip between 1%-3%, creating more uniform temperature distribution. The reduction in natural gas consumption results in substantial savings per year, not including equivalent or larger savings in carbon tax reductions or credits.
Product Information Sheets
Watch this short video to see how Blasch's fully engineered and stackable StaBlox parts can be installed orders of magnitude faster than traditional brick and mortar tunnels. The installation of a Blasch StaBlox flue gas reformer tunnel system includes:
Lightweight bricks interlocking together with built-in expansion gaps
Hollow, but strong engineered lids locking into the sidewall, providing the necessary protection from impact and cracking.
Complete moisture less design, requiring no drying or curing.
In this recorded presentation, learn about the mechanical and reliability features of Blasch's StaBloxTM, and the process improvements of BD Energy's TOPTM technology, including:
Reduction of methane slip of 2%-3% provides options for plant operations.
Increased tube reliability
Potential to incorporate an in-tunnel SNCR NOx reduction system
In this short video, take a look at how quickly the StaBloxTM Flue Gas Reformer Tunnel system can be put together in comparison to a traditional brick-n-mortar tunnel.
The overall influence of tunnels on the flue gas flow in a steam methane reformer has been modeled and documented, and the concept that running a reformer without tunnels can decrease overall efficiency is well understood in the industry. In this 30-minute webinar, learn about the Blasch modeling methods and findings that show the significant efficiency and improved financial impacts.
In this on-demand webinar, presented with DigitalRefining.com, Senior Global Director Uday Parekh discusses how ceramic solutions like Blasch VectorWallTM and StaBloxTM boost the reliability and performance of your hydrogen production and sulfur recovery plants with benefits including:
Higher plant reliability and much longer run-lengths
60-90% faster installation times
Annual energy savings of several hundred thousand dollars for SRUs, and lower emissions
In this video, watch and see how easy it is to stack the StaBlox interlocking blocks into place to build the tunnel system.